Supporting imagery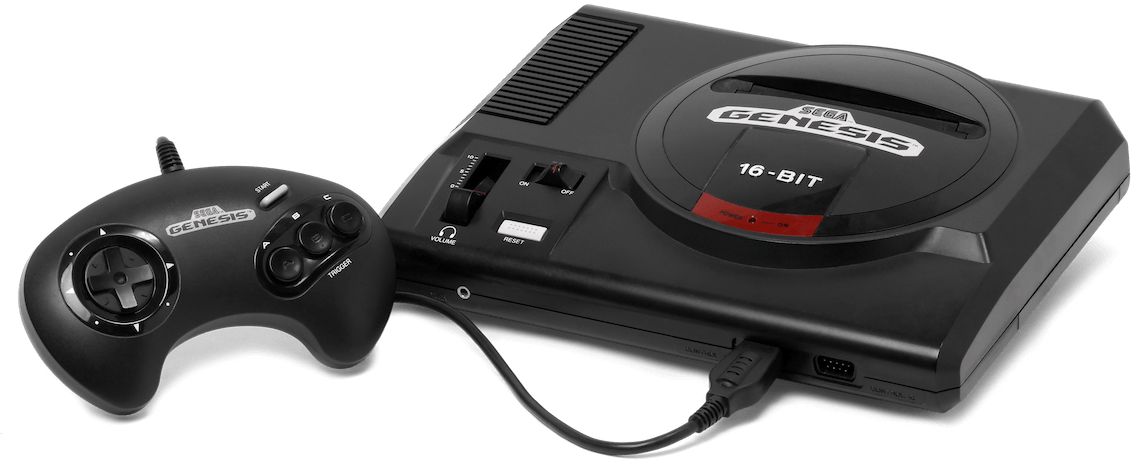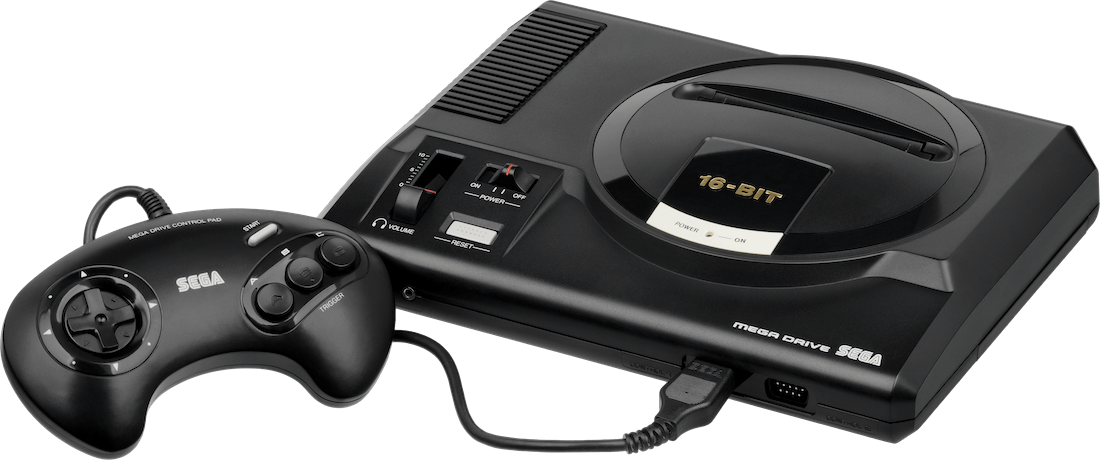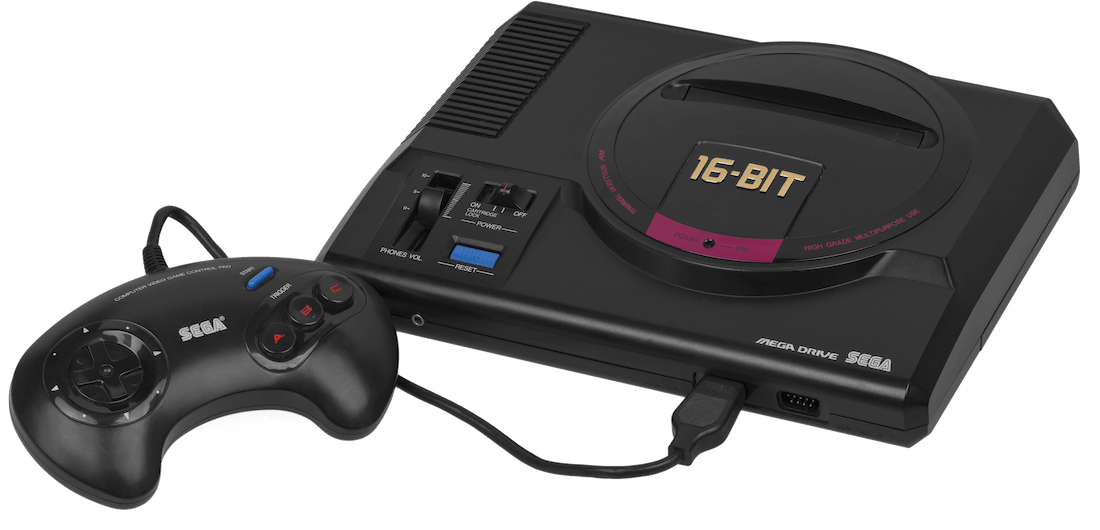 ---
A quick introduction
Sega (and their TV ads) want you to know: It's impossible to bring decent games without faster graphics and richer sounds.
Their new system includes lots of already familiar components ready to be programmed. This means that, in theory, developers would only need to learn about Sega's new GPU… right?
---
CPU
This console has two general purpose processors.
Firstly, we've got a Motorola 68000 running at ~7.6MHz, a popular processor already present in many computers at that time, such as the Amiga, the (original) Macintosh, the Atari ST… Curiously enough, each one of them succeeded its '6502 predecessor' and while the Master System (Mega Drive's precursor) doesn't use a 6502 CPU, the NES did (and in some way, Sega's goal was to win Nintendo consumers over). All in all, you can see a bit of correlation between the evolution of computers and game console technology.
Back on topic, the 68k has the role of 'main' CPU and it will be used for game logic, handling I/O and graphics calculations. It has the following capabilities:
68000 ISA: A new instruction set with plenty of features, including a set of multiplication and division instructions. Some instructions are 8-bit long (byte), others 16-bit long (word) and the rest are 32-bit long (long-word).
32-bit registers: This is a big step, considering the 6502 and Z80 only have 8-bit registers.
16-bit ALU: Meaning it needs extra cycles to compute arithmetic operation on 32-bit numbers, but it's fine on 16-bit/8-bit ones.
External 16-bit data bus: As you can see, while this CPU has some '32-bit capabilities', it hasn't been designed to be a complete 32-bit machine. The width of this bus implies better performance when moving 16-bit data around.

Interestingly enough, Motorola debuted a complete 32-bit CPU, the 68020, four years before this console's release. But I imagine costs would've skyrocketed had Sega chosen the latter chip.

24‑bit address bus. This means that up to 16 MB of memory can be accessed, but addresses are still interpreted as 32-bit values inside the CPU (the upper byte is just discarded). The bus is physically connected to:

64 KB of RAM.
Cartridge ROM (up to 4 MB).
Two Controllers.
VDP's registers, ports and DMA.
Motherboard's registers (identifies the console).
Expansion ports (used for 'future' accessories).
Second CPU's RAM (Controller by a bus arbiter).
(If you wonder the reason behind using 24-bit addresses with a CPU that can handle 32-bit addresses, I doubt that in the 80s many were asking to manage 4 GB of RAM and adding unused lines is costly in terms of performance and money).
Secondly, there's another CPU fitted in this console, a Zilog Z80 running at ~3.5 MHz. This is the same processor found on the Master System and it's mainly used for sound control. It features:
Z80 ISA: An extension of the Intel 8080 ISA, it handles 8-bit words.
8-bit registers and 8-bit data bus: No surprises here.
4-bit ALU: This may be a bit shocking, but it managed to handle 8-bit operations without problems, it just takes two cycles per number.

Notice how the 6502 runs at ~2 MHz in some systems while this ones almost reaches 4 MHz: Clock speed doesn't make the Z80 faster per se, but helps to balance the lack of transistors in some areas.

16-bit address bus with the following address map:

8 KB of RAM.
Two sound chips.
68000's RAM (again, handled by the bus arbiter).
Both CPUs run in parallel.
Memory available
The main CPU contains 64 KB of dedicated RAM to store general-purpose data and the Z80 contains 8 KB of RAM for sound-related operations.
Intercommunication
Sega chose two independent processors that have no awareness of each other, so how can games manage both at the same time? Well, the main program is executed in the 68000, and this CPU can subsequently write on Z80's RAM. So, it's possible for the 68000 to send a program to the Z80's RAM and make the Z80 load it (by sending a reset signal to that CPU). Once the Z80 is under control, it can be used to manage the sound sub-system and move memory around using the previously described method, all of this while the 68000 is running other operations.
Because one CPU will have to step in the other's CPU bus and both can't use it at the same time, there's an extra component called Bus arbiter that must be activated to stall either processor, so memory can be written without hazards.
It's important to point out that this design can underperform if not managed properly, so games will have to take special care of the bus arbiter and watch for not stalling either CPU for longer than needed.
---
Graphics
Blast Processing!
Graphics data is processed by the 68000 and rendered on a proprietary chip called Video Display Processor (or 'VDP' for short) which then sends the resulting frame for display.
The VDP runs at ~13 MHz and supports multiple resolution modes depending on the region: Up to 320x224 pixels in NTSC and up to 320x240 pixels in PAL.
This chip has two modes of operations:
Mode IV: Legacy mode that behaves like its predecessor.

This doesn't mean this console will play Master System games automatically, an additional accessory (the Power Base Converter) is required to fit previous cartridges on this console, the converter will also instruct the I/O chip to put the Z80 in control.

Mode V: Native mode of operation, we'll focus on this one.
What about Mode 0 to III? Well, these belong to the even older SG-1000 and the Mega Drive doesn't support them.
Organising the content
The graphics content is distributed across 3 regions of memory:
64 KB VRAM (Video RAM): Contains most of the graphics data.
80 B VSRAM (Vertical Scroll RAM): The VDP supports vertical and horizontal scrolling, V-scroll values are stored in this separate space.
128 B CRAM (Colour RAM): Stores four palette entries with 16 colours each (including transparent), the system provides 512 colours to choose from. Additionally, Highlight and Shadow effects can be applied to each palette to achieve a wider range of colours per palette.
Constructing the frame
The following section explains how the VDP draws each frame, for demonstration purposes Sonic The Hedgehog is used as example. I recommend checking out the functioning of its predecessor since there will be a lot revisited in here.
A dedicated transfer unit
So far we've discussed what the CPU can do to update frames, but what about the VDP? This chip actually features Direct Memory Access ('DMA' for short) that allows to move memory around at a faster rate without the intervention of the CPU.
The DMA can be activated during H-Blank, V-Blank or active state (outside any interrupt), each one will have a different bandwidth. Additionally, during any DMA transfer the CPU will be blocked, this means the timing is critical to achieve performance.
If used correctly, you'll gain high resolution graphics, fluid parallax scrolling and high frame-rates. Moreover, your game may also be featured on TV ads with lots of Blast Processing! signs all over it.
Video Output
This console has the same video out port of the Master System.
---
Audio
The Mega Drive houses two sound chips: A Yamaha YM2612 and a Texas Instruments SN76489.
Functionality
Each chip provides very different capabilities:
Yamaha YM2612
An FM synthesiser that runs at the 68000 speed and supports six FM channels, one can be used to play PCM samples (8-bit resolution and 32 KHz sampling rate).
Frequency modulation or 'FM' synthesis is one of many professional techniques used for synthesising sound, it significantly rose in popularity during the 80s and made way to completely new sounds (many of which you can found listening to the tunes from that era).
In a strict nutshell, the FM algorithm takes a single waveform (carrier) and alters its frequency using another waveform (modulator), the result is a new waveform with a different frequency (and sound). The carrier-modulator combination is called operator, multiple operators can be chained together to form the final waveform, different combinations achieve different results. This chip allows 4 operators per channel.
Compared to traditional PSG synthesisers, this was a drastic improvement: You were no longer stuck with pre-defined waveforms.
Texas Instruments SN76489
A PSG chip that can produce three pulse waves and one noise.
This is actually the original Master System's sound chip and it's embedded in the VDP, it runs at the speed of the Z80.
Notice the 'Pulse 3' channel remains unused, this is indeed reserved to play the effects during gameplay.
Mixed
Both chips can output sound at the same time, the audio mixer will then receive both signals and merge them before sending it through the audio output.
The conductor
The Z80 is the only CPU capable of sending commands to those two chips, which is a relief for the 68000 since the latter is already fed up with other tasks.
However, let's not forget that the Z80 is an independent processor by itself, so it needs its own program (stored in the 8 KB of RAM available) which will enable it to interpret the music data received from the 68000 and effectively manipulate the two sound chips accordingly. This program is called sequencer or driver.
Now, some games may decide to exploit the PCM channel, and for that they also need to plan a way to continuously sequence and stream their music using the rest of RAM available. The main constraint is that in order to fill that memory, the main bus has to be blocked first (so no commands or samples can be sent to the audio chips during that timeframe). If this issue wasn't tackled properly, different sound anomalies could appear (muting, frozen notes, low sample rates, etc).
Cracking sampling
I've decided to dedicated a section for those who successfully manage to overcome the aforementioned constraint. Instead of just sticking with ordinary drum kits, some games found incredible ways to stream richer samples to that single PCM channel, check out these examples:
I know, they are nowhere near CD quality, but bear in mind those sounds were once deemed impossible to reproduce in this console and I'm not even emphasising how much progress this represents compared to the previous generation, so they certainly deserve some merit at least!
Assisted FM Composition
If programming an FM synthesiser was already considered complicated using the controls of an electronic keyboard (the Yamaha DX7 is a good example of this), imagine how much it was using only pure assembly…
Luckily, Sega ended up producing a piece of software for PC called GEMS to facilitate the composition (and debugging) of music. It was a very complete tool, among lot of things it included lots of patches (already configured operators to choose from), which would also explain why some games have very similar sounds.
The audio subsystem enabled games to create more channels than allowed and assign each one a priority value, then when the console would play the music, it dynamically dispatched the music channels to the available slots based on priorities. Additionally, channels with a high priority but without music could be automatically skipped.
Channels also contained some logic by implementing conditionals inside their data, this allows music to 'evolve' depending of how the player moves in the game.
(Bonus) Mega CD Sound
Here's an interesting fact: The Mega CD add-on provided 2 extra channels for CD Audio (among other things). One of its most famous games, Sonic CD, had very impressive music quality but like all games it had to loop, the problem was that looping music on a 1x CD reader had noticeable gaps, so the game included loop fillers that were executed from another PCM chip while the CD header was returning to the start.
These fillers are only found on early betas of the game and they didn't make it for the release, the remake finally included them. This is one of the levels of the game:
Have you noticed the gap on the Mega CD's version?
---
Games
They are mainly written in 68000 assembly while the sound driver is in Z80 assembly. Both reside in the cartridge ROM and can size up to 4 MB without the need of a mapper.
Extra functions
In terms of expandability, this design wasn't as modular as the NES or the SNES. Hence, some add-ons like the 32x had to bypass the VDP (hence the need for the 'Connector Cable').
Only one custom chip was produced for cartridges, the Sega Virtua Processor, among other things it helped to produce polygons, although only one game included it as it resulted very expensive to produce.
---
Anti-piracy / Region Lock
To block imported games, Sega changed the shape of the cartridge slot between regions (it kept the same pinouts, though). Games could also block their execution by checking the value of the 'Version Register' which outputs the region value. An easy way to bypass this was to either buy one of those shady cartridge converters or do some soldering to bridge some pins on the motherboard that alters the Version Register.
When it comes to Anti-Piracy measures, the easiest check was on the SRAM size: Bootleg cartridges had more space than needed to fit any game, so games checked for the expected size on the startup. Programmers could also implement extra checksum checks at random points of the game in case hackers were to remove the SRAM checks. The only way to defeat this was to actually find the checks and remove them one by one… Although finding them was the trickiest part!
---
That's all folks